---
About Groove Boot Camp

Sammy K's Groove Boot Camp is an intensive Drum Set experience that teaches the skills needed to perform in a Big Band and beyond. This program brings Sammy's 25 years of experience to Drum Set students in a concise, comprehensive day that includes the following:
Drum Set assembly and component placement
Drum Set tuning for Big Band and beyond
Demonstration of the Groove Boot Camp vocabulary by Sammy K
Individual instruction for each student on their own Drum Set
An opportunity for the students to use the Groove Boot Camp vocabulary in the Drum Set Choir format created by Jazz legend Billy Hart
Extensive question and answer periods allowing for individual instruction
A pre/post Groove Boot Camp pizza party and Jazz listening/watching session (this is an option-each host decides on)

This program is individually tailored to each student, it is NOT a pre-set agenda! Each Groove Boot Camp allows for the individual student to get intense one on one teaching from Sammy K, as well as playing with and learning from the other students. When used as part of a 'Jazz Camp Week', Groove Boot Camp allows students of ALL performance levels to learn together. This allows students to get a jump start on learning and performing for the week. This program is supported by Remo, Zildjian and Yamaha, the world leaders in Drum Set related products.
---
Sammy K's Educator Boot Camp is a program designed to help Educators get the Groove Boot Camp experience in a less intensive format. This program allows Educators at all levels of experience and knowledge to get Drum Set instruction from Sammy K. One of the highlights of this program is an opportunity to play the Drum Set and receive personalized instruction from Sammy K. The focus of this program is to give the Educator the tools needed to better instruct their students, and have a better performing ensemble as well.

Highlights of the Educator Boot Camp are:
Drum Set assembly
Drum Set tuning
Demonstration of Groove Boot Camp vocabulary by Sammy K
Educators play Drum Set with individual instruction by Sammy K
Extensive Question and Answer period with Sammy K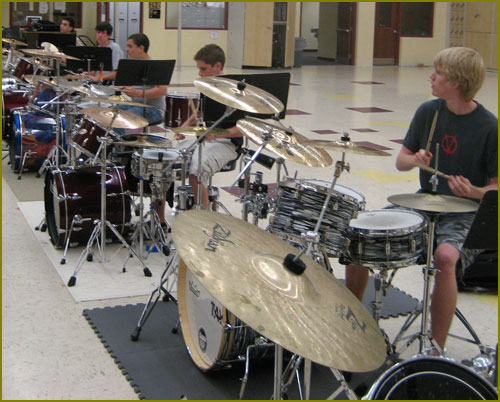 This program has been highly successful in assisting Educators all over North America, and it can assist you too. Sammy takes time to address individual needs as well as presenting the group concepts, so your needs will be addressed at this program. It is a unique opportunity to spend time with an experienced Artist and Educator who understands the unique needs of the Educator and the student. Sammy K brings 25 years of experience from around the world to you and your school with the support of Remo, Zildjian and Yamaha, the world's leading manufacturers of Drum Set related products
---
About Slammin' Sammy K

Grammy nominated musician Sammy K began his professional career at the age of 13 in Michigan. Since then his musical journey has taken him internationally with groups as diverse as The United States Air Force Band of Flight, The Walt Disney Company, Dolphin and Sea Wind Cruise Lines, Show Choir Camps of America, Cedar Point and the Los Angeles Laker Band. While earning his degree in Political Science and Communications at Michigan State University and Western Michigan University, Sammy performed as a member of the multi award winning Michigan State University Spartan Marching Band, and the nationally recognized Spartan Drum Line. He was selected as a member of the "All American College Band "at Disneyland, under the direction of the legendary Art Bartner, and led his own band to 3 consecutive Best Band awards in the Down Beat Magazine international competition. During his tenure as the drummer for Michigan State University's Jazz Band I, Western Michigan University's Jazz Orchestra, and the premiere college vocal ensemble Gold Company, Sammy received numerous solo and best band awards.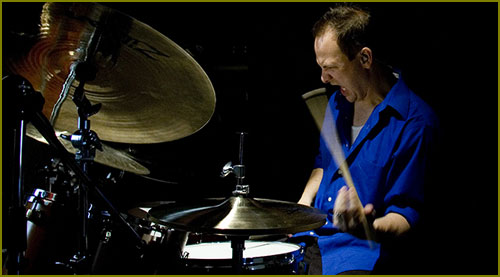 Sammy has been active as a Clinician and/or performer at: International Association of Jazz Educators International Conference, Brandon Jazz Festival, Indianapolis Jazz Festival, Montreux/Detroit Jazz Festival, Percussive Arts Society Invitational Marching Competition, North Dakota State University Jazz Festival, Notre Dame Jazz Festival, Aquinas College Jazz Festival, Spartan Invitational Marching Competition, Southwest Ohio Jazz Festival, Miami Valley Jazz Camp, Bands of America Marching Competition and the International Music Camp. He works with school districts around the US and Canada as a guest instructor for their Jazz and Rock Bands, and has been the Drum Line Instructor for multiple award winning high school programs. He created the "Groove Boot Camp" program of intense Drum Set instruction and has been presenting that program to students and educators in the US and Canada.

Currently based in Los Angeles, Sammy K has performed with a list of artists that includes: Bob Hope, The Coasters, Michael Orland (American Idol), Wes Anderson, Lucy Lawless, The Stars of the Lawrence Welk Show, Jon Hendricks, Jimmy Heath, Zara (Dire Straights, Bob Geldof), The Platters, Buselli/Wallarab Big Band, Bobby Vinton, The Nelson Riddle Orchestra, Steve Turre, The Mills Brothers, David Pomeranz, Travis Howard, Kate Miner, Dave Brubeck, The Ink Spots, The Jimmy Dorsey Orchestra and Harry Connick Sr. Grammy winners Ray Bardani , Ted Perlman and Mike Acosta utilize Sammy's grooves for their recording and live projects. He has appeared on the Emmy Award winning "Wayne Brady Show", "Ally McBeal" with KC and the Sunshine Band and Josh Groban, "Unsung Heros" on CMT and in the film "The Fast and the Furious." The clients that have used his talents include: The Walt Disney Company, Ferrari, NBC, The Hal Leonard Publishing Company, Much Music Television, the Six Flags Corporation, Daimler-Chrysler, ABC, the International Toys for Tots campaign and CBS.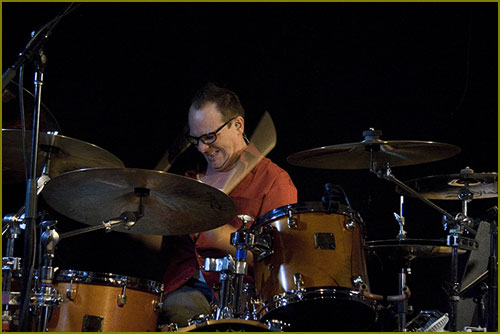 In addition to his Drum Set career, Sammy is a Drum Circle Facilitator for both REMO inc and UpBeat Drum Circles. He is co-creator of the body based percussion game/teaching tool "Body Beat" which is used internationally by recreational drummers and educators alike. He also co-produced music used at the United Nations International Conference on Children, and the soundtracks for the stage shows "The Winter Dance Party" and "Buddy, Roy& Elvis."

Sammy is a proud member of the family at REMO inc as both a Drum Head Artist and a Drum Circle Facilitator. He is also on the Zildjian Cymbals Educational Team, a YAMAHA Drum Artist and enjoys relationships with Kotz Cajons and Big Bang Distribution.
Find out more about Sammy K. at his Official Website at: www.slamminsammyk.com